by Macauley on March 25th, 2007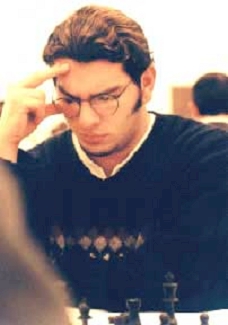 An exciting shocker of a final day for the Internet Chess Club's annual Dos Hermanas blitz tournament. Cinderella-story Jorge Sammour-Hasbun (nee Zamora) (ICC: NECF-InSchools) defeated three grandmasters in the final three knockout rounds, to win the 'Ǩ1,800 EUR first prize and blitz bragging rights for a while. One of the few untitled players to qualify, he entered Dos Hermanas unsure if he could even reach the final knockout event!
Sammour-Hasbun's quarterfinal victory over 2661 rated GM Kiril Georgiev (ICC: K-Georgiev) was particularly sweet as Jorge has fond memories of playing ultra long blitz sessions with the Bulgarian grandmaster way back in the late nineties before Sammour-Hasbun's ten year hiatus from the game. He has an ambitious over-the-board comeback planned now that he's back, but is also just happy to be enjoying the game again.
More in my
27 minute audio interview with Jorge Sammour-Hasbun (requires ICC membership) recorded LIVE, just minutes after his harrowing 227 move (not a typo!) draw to guarantee the match win against runner-up Tigran L Petrosian (ICC: Anyuta).